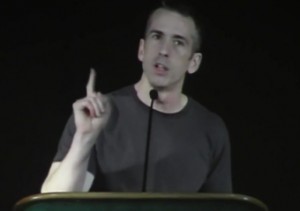 Apparently not! Sex columnist Dan Savage, President Obama's appointee to the Commission Against Bullying, decided to go on an anti-Bible rant this past weekend at the NSPA/JEA's annual High School Journalism convention.
Speaking to 9th-12th graders, Savage not only pushed his pro-gay agenda, but also called Bible principles "bulls**t!"
Needless to say, it is amazing to see how one of the President's spokesmen against bullying can, in essence, hypocritically take his freedom of speech this far.
WARNING: This content is offensive and not suitable for children.