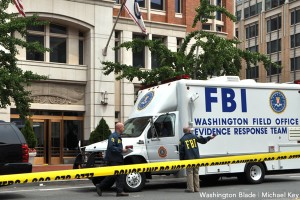 Yesterday's shooting at the Family Research Council headquarters in Washington, DC has struck too close to home for me.
This week, I've been broadcasting from our nation's capital in the very studios of the Family Research Council.
Not but a few hours before I was to go on air, a lone gunman – intent on wreaking havoc on the very people standing for faith, family and freedom – passed through the same doors I had walked through the night before, started muttering something about Chick-fil-A and hate, and shot security guard Leo Johnson. Visitors in the lobby helped Johnson bring down the 28-year-old man who was carrying an extra clip of ammunition with him.
I'm thankful to know that Mr. Johnson, who was shot in the arm, is in stable condition, but it leaves me to wonder where the left stands on this issue. Media coverage of this has been minimal. If the shooting had been at Planned Parenthood's offices in DC, the story would top the newscasts, but not so for a Christian organization whose stance for family values flies in the face of a gay, liberal agenda.
What do we make of this? Will this be labeled a hate crime? Is it domestic terrorism? Legally, the FBI's investigation will lead the US Attorney's office to file appropriate charges against the gunman; however, spiritually, it reminds me that the battle raging "in the heavenly realms" will often spill over right in front of us.
Standing with you in the fight for right and truth!