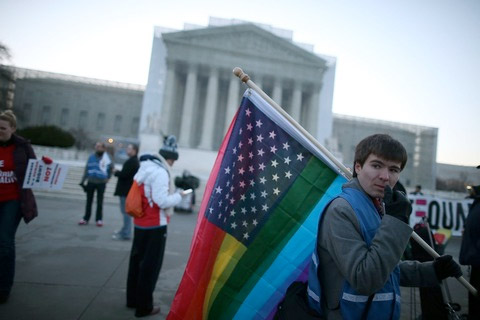 In what appear to be encouraging signs for the future of marriage, the US Supreme Court today in oral arguments surrounding California's Proposition 8, a 2008 state constitutional amendment in favor of marriage, seemed wary to wade into this cultural debate. Perhaps mindful of the over forty-year long debate that has raged over the Supreme Court's overreach in the 1973 Roe vs. Wade decision, which legalized abortion, justices today seemed loathe to impose an edict from on high.
While this case is far from over, particularly with a ruling not due out until June and another day of oral arguments on DOMA tomorrow, there are early hopeful signs.
Today's oral arguments, surrounded the constitutionality of the 2008 "Prop 8" constitutional amendment, which Californians passed in favor of natural marriage between a man and a woman. The case, which was appealed up to the US Supreme Court, is called Hollingsworth vs. Perry, with a challenge to the California amendment being based in the Equal Protection Clause of the US Constitution's 14th Amendment.
As I have laid out on "Common Cents," the contention that natural marriage laws violate the Equal Protection Clause is a false argument, since the Equal Protection Clause is designed to ensure that no person is discriminated against with differing sets of laws on an unchangeable aspect of their person (i.e. – race). The language of the Clause dates back to the days of the Civil War, when entire groups of people – namely black Americans – were not afforded equal civil rights protections.
In the case of same sex "marriage," no two sets of laws exist.  All citizens in states with natural marriage laws are governed by the same set of laws, and have the same access to the institution of marriage, so long as they comply with the definition (i.e. – that the spousal partners are of the opposite sex and monogamous) set forth under law.
It's a complete red herring to claim that current marriage law is the modern equivalent of Jim Crow laws and segregation. Marriage is a public institution governed by the democratic process through the people's representatives. The fact that liberal activists believe the US Supreme Court has the jurisdiction to hear a case on an issue over which the Federal government has no authority is alarming.
This case should never have risen to the level of the US Supreme Court, as Proposition 8 is a state law (or, in this case, Constitutional Amendment), which does not conflict with any aspect of the US Constitution. The pro same-sex marriage community, however, has pinned its hopes on liberal justices like Sonia Sotomayor and Elana Kagan partnering with so-called "swing" voters like Justice Anthony Kennedy to impose same-sex marriage not only on Californians, but on all 50 states. Their hopes, however, were dampened by Justice Kennedy's comments during oral arguments today.
Justice Kennedy wondered aloud that which I've been asking for weeks: "was [this case] properly granted? You might address why we should take and decide this case." That's a nice way of asking "why the heck are we here?"
In fact, not only did Justice Kennedy raise this question, his sentiment was seemingly echoed by Sonia Sotomayor, on whom liberals felt they could reliably count in this case.
Justice Kennedy, though, went further by discussing the lopsided evidence of over 2,000 years of natural marriage against 50 years of so-called same-sex "marriage." He even evoked laughter from the tense courtroom when he stated: "The problem with the case is that you're really asking, particularly because of the sociological evidence you cite, for us to go into uncharted waters, and you can play with that metaphor, there's a wonderful destination, it is a cliff."
Today was a seemingly good start for the majority of Americans who believe that marriage should be upheld as the union between a man and a woman, and that such critical social issues should be left to the people of the several states.
>>REPLAY
Tuesday, March 26
()

Josh Kimbrell, March 26, 2013
The US Supreme Court has day one of hearings on two key cases that will define marriage for decades to come. Josh gives both a conservative AND libertarian response that will surprise you.