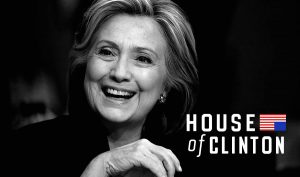 For the past three years, many of us have spent the first weeks of February watching Frank and Claire Underwood worm their way into the presidency on House of Cards. Netflix has made a fortune off of Kevin Spacey's brilliant, if morally challenged, character that ruthlessly pursues power for its own sake.
While Frank might entertain many of us, I doubt few, if any, would ever want a man of his lack-of-character to actually be our Commander-In-Chief.
Sadly, though, the fictional series is way too close to reality for Bill and Hillary Clinton. This power couple, like the Underwoods, is as brilliant as it is corrupt.
Over the past week, the Clinton machine has accomplished something that 16 other Republican candidates failed to do: Unravel the candidacy of Donald Trump.
The tactics that they have employed would make Sun Tzu proud. They're right out of his playbook. Tzu, the brilliant 5th century Chinese military strategist, argued that you find your opponent's weakness and exploit it. The same notion is applied in martial arts, namely jujitsu, wherein a fighter uses his or her opponent's weight against him. This method of setting-up an opponent for self-collapse is a brilliant move in martial as well as political arts.
This is exactly what Hillary Clinton has done to Donald Trump.
The last two people in America who should be lecturing anyone about the mistreatment of women who work for them should be the Clintons. Yet, it seems they have managed to totally deflect all scrutiny on their own record – not to mention Hillary's email illegalities – by pushing-out audio of Donald Trump's crude behavior.
While I am certainly not one to even attempt to defend the recklessness of Donald Trump, it is more than a tad ironic that the couple who made possible the phrase "bimbo eruption" in the 1990s is being cast as the champions for women in 2016. It is working brilliantly, however, as Hillary's lead over The Donald has grown ever since audio of Trump's groping comments made to Billy Bush were released last weekend.
I am no fan of the Clintons, and personally believe Mrs. Clinton's policies will be devastating to the country. However, you have to be at least somewhat awed by the strategic brilliance of their tactics.
If Trump still hopes to wrest the presidency out of the hands of one of the most corrupt people to ever seek the office, he had better learn contrition and strategy. He needs to truly apologize for his behavior and find ways to go on the offense against the Clintons, not just play defense with allegations leveled against him.
The Clintons are street fighters, and Trump needs to learn The Art of War sooner rather than later. For as another brilliant general, Otto Clausewitz, wrote "politics is war by another name."