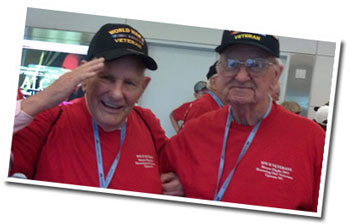 Join me this evening for a special edition of Common Cents live from Washington, DC, as we continue our series on the New Deal being a raw deal for America.
The best part about this special, though, is that I'm here in Washington with a group of South Carolina's World War II heroes. Nothing reminds me of how precious our freedoms are than joining this great group of men and women who put their lives on the line for liberty.
While I hope you'll listen to tonight's special broadcast, I hope you do it in your car on the way to Greenville Spartanburg Int'l Airport. That's because the public is invited, in fact encouraged, to meet the veterans of Honor Flight when they land back in Greenville tonight.
Our plane lands at 7:45pm, so we ask y'all to be at GSP by 7:30pm.
Bring your flags, grab your friends, and join us as we honor the Greatest Generation at GSP tonight! I'll see you there!