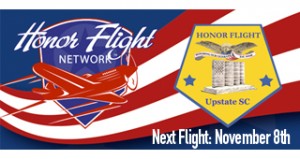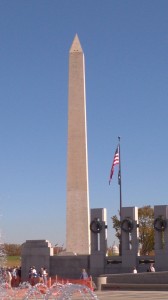 Today, I'm in Washington DC on my second trip with Honor Flight Upstate SC. It is truly an honor for me to join these American heroes, and especially to travel with them in America's capital city. As you can imagine, it means a great deal to this young American to travel with the men and women who made enormous sacrifices to secure the liberty I've enjoyed in my lifetime. Additionally, as I'm a new father, I feel the burden of responsibility to secure freedom for my little son. That's what we attempt to do each and every day on "Common Cents" and through our radio outreach. To honor the generations that fought before us, and to secure the future for the next generation, we're working to restore the republic.
In addition to today being the day for Honor Flight, it is also Election Day in the United States. In states from coast-to-coast, there are a number of significant ballot referendums and measures that will shape the political climate heading into the 2012 Presidential Election. Perhaps one of the most striking of these referendums is Issue 2 in Ohio. Earlier this year Ohio's newly elected Governor John Kasich took extraordinary action to roll by the overreach and greed of public employee unions. Much like Governor Scott Walker's measures in Wisconsin, Governor Kasich's efforts took the fight to the union special interests that rob the taxpayer. While most Americans are tightening their belts and cutting spending, public employees are demanding more and more from the government. Now, this measure, passed by the legislature and signed by the Governor, has been placed on the ballot as a referendum. If it passes, common sense, and economic freedom, will prevail in Ohio. If it does not, joblessness and economic stagnation will continue.
Efforts by public employee unions (notably teachers unions like the NEA) to increase their government benefits are proving to be budget busters. States like Ohio and Wisconsin cannot, I repeat cannot, balance their budgets with the current levels of public spending in those states. The only way to get the economy moving again in these states, as in the country at-large, is to get government out of the way. Issue 2 in Ohio is not solely an Ohio issue, hence my talking about it in South Carolina. Instead, it is a bellwether issue that is facing all Americans: do we have the courage to live freely, without government guiding our lives?
Perhaps the most striking illustration of the choice facing America is what I witnessed today. While traveling with South Carolina's WWII heroes, we passed the "tent city" of the Occupy Washington movement. Occupy Washington is, of course, the DC version of what's happening up on Wall Street. What a study in contrasts: the men I'm traveling with, when they were the age of these protestors, were occupying Europe. These advocates of socialism are advocating the sidewalks others fought to keep free.
May we have the courage to live free.