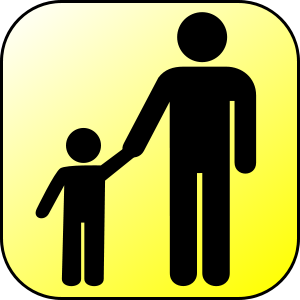 As I've been sharing over the past several weeks, there is a dire need in South Carolina for an overhaul of outdated and irresponsible child custody laws, which doom children of divorce to single parent childhood. Since our state's divorce rate is nearly 60% (largely thanks to ridiculously liberal no-fault divorce laws), we must take the necessary steps to protect innocent children from the fall-out of failing families.
That's why this morning Dave Wilson and I, working to represent our organization Future Freedom Foundation and the "Common Cents" radio program, took our fight for comprehensive child custody reform back to Columbia. We've strongly supported comprehensive child custody reform presented by SC Representative Mike Pitts (R-Laurens), which would establish joint custody for mothers and fathers. This common sense proposal would ensure that children have active and involved moms and dads, which has an overwhelmingly positive affect on their social / psychological well-being. Representative Pitts' put forth two bills, H. 4614, which establishes procedural joint custody (meaning both parents have to agree on educational decisions, religious instruction, medical procedures, etc) and H. 4095, which would establish physical joint custody. As expected, H. 4614 made it through the SC House of Representatives by an overwhelming margin, H. 4095, however, got caught-up in the special interest lobby of divorce attorneys.
That's why we here at "Common Cents" and the Future Freedom Foundation have been working with members of the South Carolina Senate to have them add back the provisions of H. 4095 in their version. This must be accomplished in the SC Senate Judiciary Subcommittee, the members of which and their phone numbers are provided below. We need your help in encouraging the members of the subcommittee to add physical custody (from H. 4095) to the Senate version of Representative Pitts' bill. If this occurs in the subcommittee, we're confidant that we can win support in the full Senate Judiciary Committee, and then passage in the full Senate.
I can assure you that every single statistic I've read on the social and economic consequences of broken families bodes badly for our state and country. For example, nearly 33% of children from broken homes will be raised in single parent households that live at or below the poverty line. Not only is this a real human tragedy, it is an enormous economic cost to every single taxpayer in South Carolina. I urge concerned citizens of all stripes to unite for common sense child custody laws that protect children from government mandated single-parent childhood. In so doing, we will strengthen our state's culture and economy.
SC Judiciary Subcommittee Members on Rep. Mike Pitts' bill H. 4614