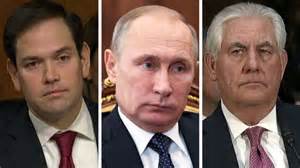 The toughest cabinet confirmation for the incoming Trump Administration was always going to be former Exxon CEO Rex Tillerson as Secretary of State. That Tillerson's confirmation would be challenging became clear immediately after he was floated as a potential pick in early December on President-Elect Donald Trump's Twitter feed. His scant record on political and foreign policy issues has been scrutinized for any clue as to his ideological leanings, and leaders in both parties have zeroed-in on his past experiences in Russia.
I got a front-row seat to the battle-that-would-be when I was invited to join a Sunday political panel on Fox News to debate the potential pick of Tillerson as Secretary of State with a Democratic activist from New York. The bi-partisan clamoring over Tillerson's business dealings in Russia was focused on how close he might be to Russian President Vladimir Putin.
Putin's Russia has emerged as America's greatest geopolitical adversary during the Obama Presidency, as the tenacious Russian leader has seized on President Obama's weak foreign policy posture to push for greater concessions. This dynamic was cemented when President Obama was caught in a hot-mic moment with Russian President Medvedev during a brief hiatus from the presidency for Putin (though he remained Russia's Prime Minister and de facto ruler) back in 2012. Telling Medvedev "after my election I'll have greater flexibility" Obama created the dynamic that he now denounces at the end of his second term.
Russia is resurgent and they are challenging NATO and the international balance of power unlike any time since the end of the Cold War and the collapse of the Berlin Wall. This dynamic created in the absence of strong American leadership provides a less-than-ideal backdrop for a potential Secretary of State who has more pictures with President Putin than President-Elect Trump.
During the Fox News panel I stated that Tillerson's meetings with Putin as the head of a major multinational corporation wasn't necessarily disqualifying. Meetings for business don't always signal political stands, and I argued that Tillerson deserved to be heard on where he would stand on Russia as Secretary of State if confirmed.
In this week's opening Senate confirmation hearing for Tillerson, the would-be Secretary of State took a tougher stand on Russia than his soon-to-be-boss Donald Trump, but still didn't satisfy the concerns of U.S. Senator Marco Rubio. Rubio's exchanges with Tillerson in the Senate Foreign Relations Committee hearings rose to fever-pitch as the Senator questioned Mr. Tillerson on Putin's human rights record and denounced the Russian president as a war criminal.
While Tillerson certainly didn't win over Marco Rubio on the first round of hearings yesterday, he did answer the Senator's questions in a deliberative, thoughtful way that is likely to sooth the nerves of senators on the fence over his nomination. For Tillerson to be confirmed, he must be unequivocal in his condemnation of Vladimir Putin's human rights record – namely the fact that he has been known to have political opponents killed – and specific on his views of how to handle Russia's renewed aggression.
Tillerson's business experience is an asset to him for his future role as Secretary of State, but he must be clear that his leadership of a multinational corporation doesn't dictate his foreign policy and/or political views.
My belief is that a president should be afforded significant discretion with regard to his cabinet picks, but that with high-level appointments like Secretary of State that discretion is more limited. Senator Rubio's questions regarding Russia, Saudi Arabia, and the future of the U.S.–Cuba relationship were all valid and instructive.
As I predicted on Fox in December, Tillerson's policy stance on Russia differs from his business dealings with President Putin, but there are still legitimate questions about the would-be Secretary of State's policy preferences.
In the coming weeks, Republicans on the Senate Foreign Relations Committee – particularly Senator Rubio – will likely find enough common ground with Mr. Tillerson to recommend his confirmation to the full Senate, but Tillerson will have to squelch concerns over his views of Russia and Saudi Arabia to pave the way.