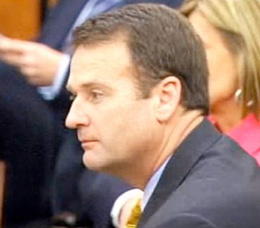 As my friend and colleague Dave Wilson likes to say, "There's politics, then there's South Carolina politics." In the case of the latter, this Friday proved that there's nothing quite like the political process in our state.
As you all know, Lt. Governor Ken Ard resigned Friday afternoon amid an impending indictment on campaign finance charges. As I've stated many times over the last few months, I have long believed the Lt. Governor should step aside for the good of the conservative movement in South Carolina. Last Friday, he finally made the right decision. While some in our state's political media want to paint this as a blow to the Republican Party, this could not be further from the truth. Consistent conservatives from the coast to the Upstate have called on Mr. Ard to step aside, long before it came down to indictments.
>>REPLAY: Monday, March 12, 2012
[mp3player width=600 height=100 config=player.xml playlist=031112-senate.xml]
While I am saddened by this saga, I believe the resignation of Lt. Governor Ard, and the elevation to the lieutenant-governorship of Senate President Pro Tem Glenn McConnell, provides South Carolina conservatives a unique opportunity for reform in the Senate. For far too long, conservative reforms that would strengthen our state's culture and economy have passed the lower chamber of the House of Representatives, only to become bogged down in the outdated rules and traditions of the state Senate. Nevertheless, in light of such momentous changes to our senate leadership, more conservative Republican senators now have a real opportunity to take new positions of influence in the upper chamber.
As I stated on my radio program Common Cents Friday afternoon, Senator McConnell was not a consistent conservative during his tenure as senate president pro tem. This unpredictability made the SC Senate's legislative process tedious, tumultuous and inconsistent with regard to conservative governance. Now, in light of Mr. McConnell's change in position, two likely replacements have surfaced: one of which is more conservative than McConnell and one less. These senators are Harvey Peeler of Gaffney and John Courson of Columbia.
Of the two, I would strongly urge support of Senator Harvey Peeler for president pro tem. Though I find that I'm more conservative than Mr. Peeler, he has been a strong conservative voice on many issues coming through the SC Senate, and he is significantly more conservative than Senator McConnell. Additionally, the selection of John Courson would establish a moderate-at-best-SC-Republican in the highest post in the senate, giving the Democrats a greater entree into setting the Senate agenda. Installing Senator Courson to the president pro tem post in the SC Senate will stall conservative reform in South Carolina, both economically and socially.
I believe in striking while the iron is hot, and these upsets in the SC Senate provide one of the most definitive moments in modern times for real reform. There are critical pieces of legislation pending in the state senate, ranging from government restructuring to comprehensive child custody reform and real school choice legislation. As such, we cannot tolerate the conservative reforms South Carolinians voted for to continue to be culled in the senate. While I hate the pain and drama associated with the indictment and resignation of Lt. Governor Ken Ard, I believe conservatives can take that which is painful to make something promising. It is a truly Biblical concept that, with faith, that which is intended for destruction can be used for good. In the case of conservative reform in the Palmetto State, this can truly be the case if we stand by our convictions.